Certified in feline behavior and experienced in adoptions, veterinary assisting and rescue work, and writing frequently on topics related to cat behavior, I give webinars for companies, shelters, and libraries. As a cat behaviorist I work with clients privately and consult with the Southampton Animal Shelter Foundation, Ready For Rescue, City Critters, the Wisconsin Humane Society, and the Animal Care Centers of NYC. I live with my husband and our two cats: happy-go-lucky Cricket, and Jenny, her blind-from-birth bestie, who rules our home.
Watch this short interview with me and videos I've made on YouTube discussing behavior.
A Few Companies & Libraries I've Worked With Include:

Feline Behavior Associates, LLC
A dedicated and principled professional driven by a lifelong passion for animal welfare, Stephen helps decode the sources of cat behavior by filtering them through the lens of the evolutionary and adaptive forces that drive feline behavior. He then creates customized behavior plans that address and solve issues between cats and the humans who love them, as well as with cats and other animals, in an empathetic and non-judgmental way.
Meet Cricket, pictured on the left and adopted in 2014. She is a happy-go-lucky girl and Jenny, on the right is her blind-from-birth bestie, adopted in 2011 and who rules our home!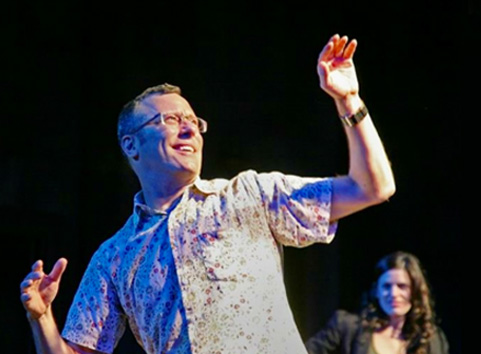 Theatrical Lighting Designer Becomes Cat Rescuer
I am a former freelance theatrical lighting designer who has taught at Yale University and Queens College. In 2002 I turned my attention to helping cats in need. From 2002 to 2011 I volunteered with a small cat rescue organization in New York City.
Changing Lives One Cat at a Time
In 2011 I discovered that one of the greatest of human gifts is relieving suffering. After changing the life of one particular cat at the site of the terrible Joplin MO tornado my own life was transformed. I began deploying professionally with the ASPCA's Field Investigations and Response Team, now the National Field Response Team.
International Rescue: The Dogs of Chernobyl
In 2019 I was extremely fortunate to assist on a spay/neuter and research campaign for the dogs and cats descended from the pets left behind after the 1986 Chernobyl nuclear accident. It was a life changing experience. I created an uplifting webinar,The Dogs of Chernobyl: A Story of Hope and Resilience – with original photos and video.
More Than 150 Five-Star Reviews and Counting
What an awesome opportunity! Thank you so much, I learnt a lot about my own cats and about cats in general and felt very welcomed. A unique experience. I think... read more the cats really enjoyed it too:)

Sarah


3/01/2021

If you're thinking of contacting/booking - stop thinking and do it! Stephan is fantastic - I just wish I'd found him 2-3 months ago, it would've reduced my stress.... read more

Gina


10/25/2022

He is a wonderful human, period. He has so much information and experience and seemed so interested in our own cats, it was as if he lived with us! Worth... read more every penny, and he said we can keep in touch with him for life to ask anything. What an incredible and interesting and kind human being dedicated to cat behavior and care. Thank you Stephen, you are so special and we could have talked for hours!!

Constance


7/01/2021